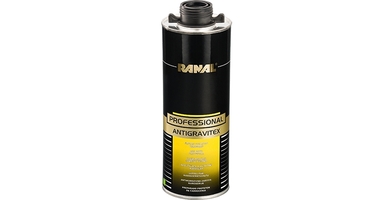 Antigravitex Professional is based on high quality synthetic resins and rubber. It does not contain bitumen and asphalts, thanks to which it is a quick drying product. 
It is designed for protecting car body and chassis; it protects against impacts of stones. It is resistant to weather conditions, oils, petrol, salt and water. It prevents corrosion. 
Thanks to its consistency the product allows creating a structure of any thickness. Dry coating is distinguished by good adhesion, flexibility and durability. 
The product can be covered with various types of top coatings.